The butterflies in your stomach when your baby smiles at you for the first time, that first tooth that comes through, and the first time your child says "mom" or "daddy". The first year of your baby's life is full of first times which you will of course never want to forget. Record them in a baby book, so that you can reminisce later on while looking back at old photos and stories.
What is a baby book?
A baby book is also called a baby diary and is a record of your baby's first year. In this book, you capture the development of your baby with photos and stories. How fast is your baby growing and changing? When does he or she first smile at you? Make sure you never forget these special memories by recording them in a book. This way you can relive your child's first year at any time.
Tip: record your pregnancy in a pregnancy book, so that you will soon have the entire story in two matching books.
How do you easily make a baby book?
With our digital album software, you can easily create a baby book. Because you store your stories and photos digitally, you don't have to worry that your book will suffer from spilled milk or knocked-over coffee. You also don't have to wait for photos to be printed and pasted. In our software, you can easily add extra pages, text, and images. You do not have to worry that there is no room for special mementos such as the birth announcement or the wristband from the hospital. Adding an empty box in the software frees up space where you can paste these keepsakes later.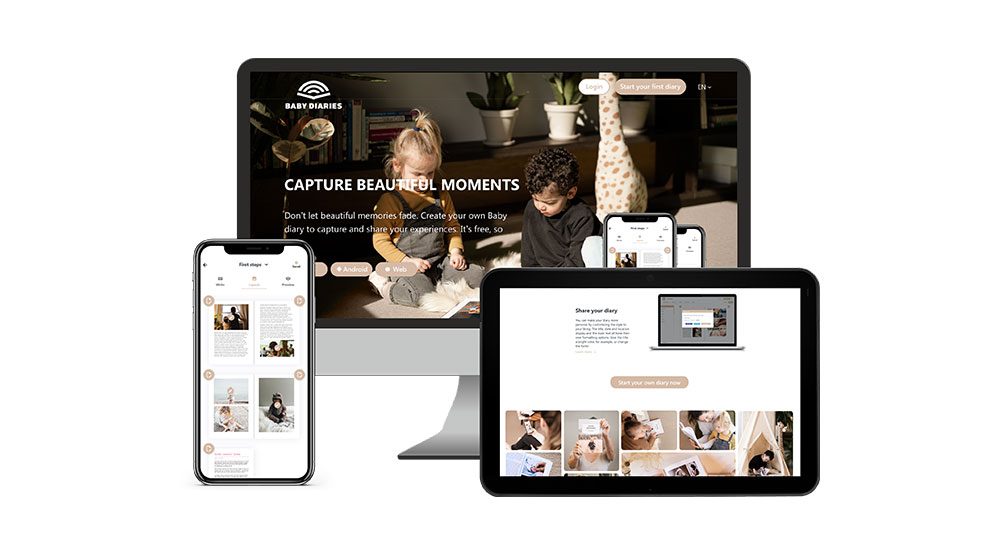 Tips for keeping your baby book
With suddenly a baby in your life, you can say goodbye to your old routine. Immediately build in your new routine by keeping your baby book. Is your baby taking a nap? Then you can update your report of your baby's first year with a cup of tea during that time. Are you sitting somewhere in the waiting room or are you waiting for the water to boil? Thanks to our digital book software you can update your baby book from anywhere. Keep track of your baby book in our app for iOS or Android or work with the album designer on our website. Set aside 5 to 10 minutes each day so that you capture all the special moments and don't have to miss a single one.
Inspiration for your baby book
Are you looking for inspiration for your baby book? Here are five tips:
1. Photograph your baby in a similar position every week from birth. This way you can watch your child grow while you flick through your baby book. At the back of your baby book, you can group 52 photos together in chronological order, so you can clearly see the changes in the first year.
2. Look up pictures of when you and your partner (and possibly your parents) were babies. Place them in the book next to the picture of your baby at that age. Can you spot the similarities?
Tip: collect photos of your child, yourself, and your ancestors in a special family album.
3. Also take pictures of your baby with family members and friends. Describe what they did and said for a nice keepsake for later. You can also ask them to write about the first encounter they had with your baby.
4. Keep special mementos such as the birth announcement, congratulatory cards, polaroid photos, and papers from the clinic. Add empty boxes in your Baby Diaries book so you can stick these keepsakes in your printed book.
Give a baby book as a gift!
Are you looking for an original maternity gift that the new parents will enjoy for a long time? Give a Baby Diaries gift card as a gift so that they can immortalize their baby's special first year. Thirty years later, they will be smiling alongside their (grand) children while thinking about babies' first year, in the book that you gave them as a present. Send an email to [email protected] and let us know for what amount you want to order a gift voucher and what personal message can be added!
Have you made a beautiful Baby Diaries book yourself and is it ready to be printed? Order extra copies at a discount to give away to proud grandpas and grandmas.
Order a baby's first year book easily and quickly
Ordering a book of babies in the first year is easy and fast with our Baby Diaries software.
Step 1: Create a Baby Diaries account
Create an account via our website or the Baby Diaries app for iOS or Android. Give your book a title and start writing about the first days of your baby's life.
Step 2: Write stories in your baby book
In our baby book software, you can choose how much space you free up for text and photos. You can choose to only place photos in your book, or add great stories to complete the book. Write in your book daily or weekly from birth. How was the birth? How did it feel to be able to hold your baby in your arms for the first time? Your stories are automatically saved to the cloud, where they are safe from curious babies and falling cups of coffee.
Tip: share your online Baby Diaries book with friends and family.
Step 3: Personalize your baby book
You choose the design of your book in the Baby Diaries software. Personalize it with one of our fifty layout options and determine the ratio between photos and text. Choose your own fonts and text color to tweak your book even more to your liking.
Step 4: Add photos and empty boxes to your baby book
A baby book is of course incomplete without pictures. Upload your moving and hilarious photos directly from your phone or camera into the software. Also, don't forget to collect your baby's weekly photos for a baby's first-year growth chart. Add special empty boxes where you can stick special mementos such as the ultrasound and birth announcement later on.
Step 5: Order the baby's first-year report as a printed book
The best way to relive your baby's special first year is with a printed book. Print your online book, so you can browse through it whenever you want. Check your book one last time: does it have a title and cover and are all pages as desired? From a minimum of 24, you can have your book printed in the format of your choice. You also choose whether it will be a softcover or hardcover book.
Tip: for € 5.95 extra you will also receive your book as a PDF so that you can also view it on the go.